Chai Yo Maui Press
P.O. Box 331
Kihei, Maui, HI 96753
office@johannsebastianhumpbach.com

Johann Sebastian Humpbach
Contact Us

Book Signings and Appearances


Come talk story with the Author at the Maalaea Harbor Crafts Fair on Tuesdays, Wednesdays and Thursdays from 10 - 5. Book signing and readings. Original art available for purchase.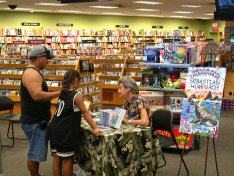 |
|
|
|
|

Watch Jamie's Live TV Appearance on KHON-2 TV
"Wake Up Today" show interview with Kirk Matthews


High Quality, 23 mb, 3:44 min.
Low Quality, 9 mb, 3:44 min.
Be sure to watch this space for upcoming appearances.